Eight-time European champions Germany picked up a resounding victory in their Group B opener on Friday night, beating Denmark 4-0 at Brentford Community Stadium in front of nearly 16,000 fans.
Determined to avenge their exit from Euro 2017 – where they lost in the quarter-finals to Denmark – Die Nationalelf kicked off the 2022 campaign on a flyer and had hit the bar three times in the first 15 minutes before Lina Magull only opportunistically breaks the deadlock. .
Felicitas Rauch fired two shots over the post, while Frauen Bundesliga top scorer Lea Schuller did the same with a diving header from close range, setting the tone for an encounter in which the Germans were a yard taller quick and tactically smarter than their Danish counterparts. .
They are, however, part of the tournament's toughest group, which includes a particularly impressive Spanish side, who themselves convinced the 4-1 winners against Finland after netting a hat-trick from the header and a penalty in the kick-off. dispatch of the day.
The Danes, runners-up at the last European Championships, looked in good form in the early stages, having played three warm-up matches to prepare for this summer's tournament – beating Austria and Brazil before narrowly losing to Turkey. Norway.
But their competitiveness waned as the legs wore out, paving the way for Martina Voss-Tecklenburg's side to demonstrate why they are the most decorated women's side in European history – the victory also celebrated their 500th outing in an official match.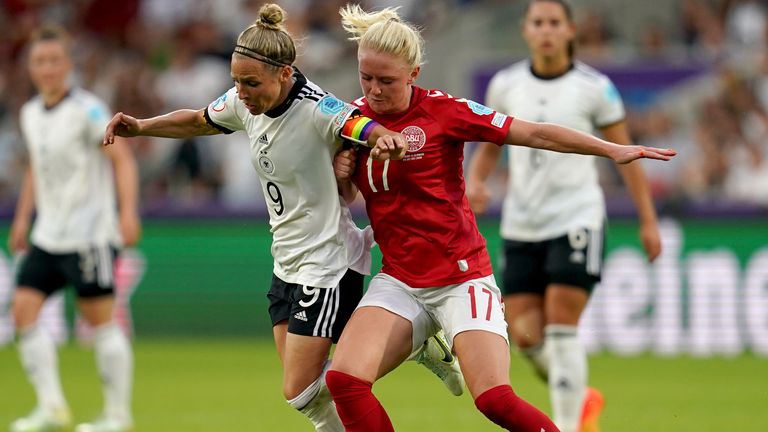 Suggestions that Germany is no longer entirely invincible have sometimes been ratified, despite the high score. Merle Frohms was challenged by Signe Bruun with a ferocious first-half long shot – one of two shots on target – while Chelsea's Pernille Harder momentarily found pockets of space to exploit.
Buoyed by a legacy of European success, Germany's intent was clear from the minute Magull struck an emphatic opener, with the result somewhat a foregone conclusion from then on. Scorer-turned-provider Magull delivered a perfect corner to Schuller to overtake a helpless Lene Christensen in the 57th minute, Denmark unable to keep pace with the tireless Germans' athleticism.
VAR denied captain Svenja Huth another goal 15 minutes before full time, before substitute Lena Lattwein fired home from six yards as Denmark failed to clear their lines from a free-kick for compounding a miserable opening night for Lars Sondergaard's side.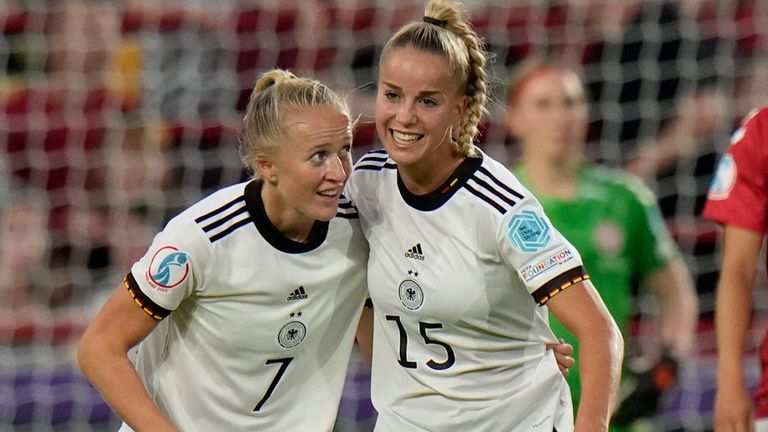 Alexandra Popp completed the best shot of the night with an 86th-minute dipping header, latching on to Sydney Lohmann's delivery to cap a ruthless second-half display from Die Mannschaft, which further strengthened her case as a as a potential favorite for continental silverware this summer.
Denmark ended a dismal display with a last-minute sending off as 19-year-old Katherine Moller Kuhl was dismissed for a second unnecessary bookable offense after coming on as a second-half substitute.
Voss-Tecklenburg: Incredibly Dominant Display
Germany coach Martina Voss-Tecklenburg:
"We played an outstanding game. We were there straight away and created a lot of scoring chances that we didn't really take advantage of in the first half.
"We were incredibly dominant and aggressive. It was a great team effort from everyone involved."
Striker Lina Magull added: "It was brutally intense from us for 90 minutes. We won a lot of duels and played with a lot of heart. I'm really, really proud of the team. It was a very, very good start for the euros."
Popp's emotional first Euros goal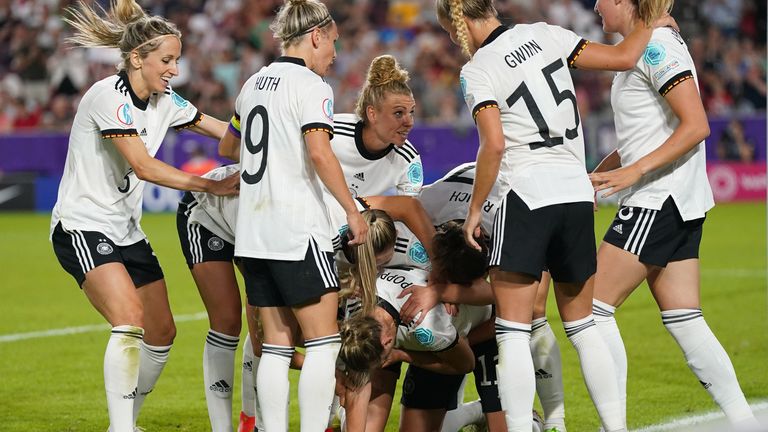 For a player of international renown in Alexandra Popp, it's almost incomprehensible that she only scored her first Euro goal on Friday night.
It has been nine years of frustration and disappointment between Popp and the European Championships. In 2013 – the last time Germany won the tournament – she was ruled out with an ankle injury.
Her second consecutive absence through injury was more keenly felt in 2017. Having established themselves as one of Germany's key players at this stage of their illustrious career, the side went through to the quarter-finals after a defeat against none other than Denmark.
In 2022, it turned out to be a third chance for Popp – and she made her Euros debut count. On her 115th cap, and with her 54th international goal, she finally took off from the tournament with a well conceded goal, sweeping home Sydney Lohmann's sparkling cross.
Her celebration was filled with emotion as she fell to her knees before being mobbed by her ecstatic teammates. It would have been just plain cruel if Popp had gone his whole career without a Euros appearance or goal.
Analysis: Germany distributes Danish mutilation
Charlotte Swamp from Sky Sports: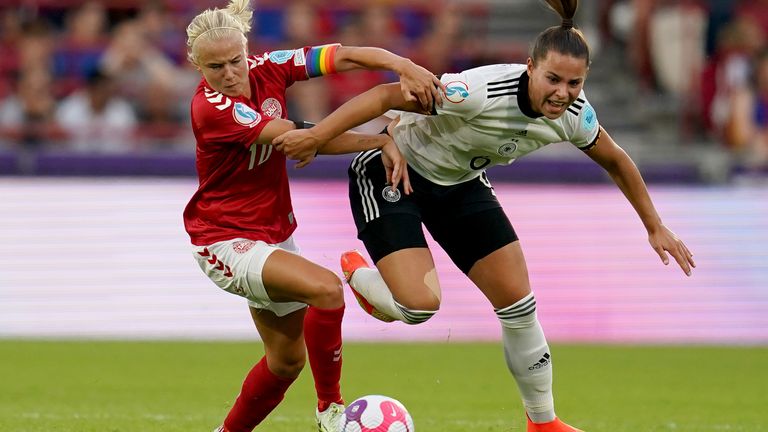 "Before the game, Germany were certainly the favorites for victory – but few could have predicted that it would happen in such a way. It was a mayhem.
"Some questioned Germany as the Euros approached. They failed to make it past the quarter-finals of the last two major tournaments and failed to qualify for the 2020 Olympics. Their international dominance , especially in Europe, was it over?
"But having won the Euros eight times – including six successive titles between 1995 and 2013 – Germany are still among the favourites. Although there are still eight teams to play their first matches, Martina Voss's side- Tecklenburg already look like tournament finalists, if not champions.
"All of their goals were expertly captured and anyone wishing to study the pressing game should look back on an exciting and entertaining 90 minutes. There was also a clear message from Germany – we are coming for that ninth title.
"For Denmark, they were doomed from the start and couldn't cope with the German press. They couldn't bring their key players, like Pernille Harder, into the game for an extended period because the Germany was there at every turn to immediately recover the Ball.
"Keeper Merle Frohms only made one notable save, while Lene Christensen was much busier. Considering the scoreline, she made some great saves, but some of Germany's goals were simply unstoppable.
"It was an overall disappointing night for the Danes, who would have hoped to inspire a run similar to that of five years ago when they traveled to Euro 2017. However, they are currently bottom of Group B and face a battle to push Germany and Spain out of those top two spots."
And after?
Germany and Denmark are back in action on Tuesday. Germany will face Spain at Brentford Community Stadium (kick-off 8pm), while Denmark will face Finland at Stadium MK.
Group B will conclude on Saturday July 16, with Germany taking on Finland in Milton Keynes. Denmark will face Spain at Brentford Community Stadium with both games kicking off at 8pm.
Follow Euro 2022 on Sky Sports
Catch up on all the latest Euro 2022 news on Sky Sports and Sky Sports News this summer.
Coverage will be anchored by Sky Sports WSL presenter Caroline Barker, alongside Jessica Creighton and Kyle Walker. Meanwhile, Karen Carney, Sue Smith, Courtney Sweetman-Kirk and Laura Bassett will provide analysis throughout the tournament.
They will also be joined by experienced England goalkeeper Karen Bardsley and Manchester City defender Esme Morgan.
Pundits and presenters will work from the Sky Sports Women's Euro 2022 mobile presentation bus, which will follow the Sky Sports News team around the country to the various stadiums where the matches are taking place.
Additionally, Sky Sports' Essential Football Podcast will be rebranded for the Sky Sports Women's Euros Podcast Tournament from June 21. Hosted by Charlotte Marsh and Anton Toloui, it will feature exclusive news and player interviews in addition to a solid tournament programme.
Euro 2022: The groups…
Group A: England, Austria, Norway, Northern Ireland
Group B: Germany, Denmark, Spain, Finland
Group C: Netherlands, Sweden, Portugal, Switzerland
Group D: France, Italy, Belgium, Iceland
Euro 2022: The schedule…
Group stage
Wednesday July 6
Group A: England 1-0 Austria
Thursday July 7
Group A: Norway 4-1 Northern Ireland
Friday July 8
Group B: Spain 4-1 Finland
Group B: Germany 4-0 Denmark
Saturday July 9
Group C: Portugal vs Switzerland – kick off 5pm, Leigh Sports Village
Group C: Netherlands v Sweden – kick off 8pm, Bramall Lane
Sunday July 10
Group D: Belgium v ​​Iceland – Kick off 5.00pm, Manchester City Academy Stadium
Group D: France vs Italy – kick-off 8pm, New York Stadium
Monday July 11
Group A: Austria v Northern Ireland – kick off 5pm, St Mary's
Group A: England v Norway – kick off 8pm, Brighton and Hove Community Stadium
tuesday july 12
Group B: Denmark v Finland – Kick off 5.00pm, Stadium MK
Group B: Germany v Spain – Kick off 8pm, London Community Stadium
Wednesday July 13
Group C: Sweden v Switzerland – kick off 5pm, Bramall Lane
Group C: Netherlands-Portugal – kick-off 8pm, Leigh Sports Village
Thursday July 14
Group D: Italy v Iceland – Kick off 5pm, Manchester City Academy Stadium
Group D: France vs Belgium – kick-off 8pm, New York Stadium
friday july 15
Group A: Northern Ireland v England – kick off 8pm St Mary's
Group A: Austria v Norway – Kick off 8pm, Brighton and Hove Community Stadium
Saturday July 16
Group B: Finland v Germany – Kick-off 8pm, Stadium MK
Group B: Denmark v Spain – Kick off 8pm, London Community Stadium
Sunday July 17
Group C: Switzerland v Netherlands – kick off 5pm, Bramall Lane
Group C: Sweden v Portugal – kick off 5pm, Leigh Sports Village
Monday July 18
Group D: Iceland vs France – kick-off 8pm, New York Stadium
Group D: Italy v Belgium – Kick off 8pm, Manchester City Academy Stadium
Knockout stage
Quarter-finals
Wednesday July 20
Quarter-final 1: Winners Group A v Runners-up Group B – kick off 8pm, Brighton and Hove Community Stadium
Thursday July 21
Quarter-Final 2: Group B Winners v Group A Runners-up 8pm, London Community Stadium
friday july 22
Quarter-final 3: Winners Group C v Runners-up Group D – kick-off 8pm, Leigh Sports Village
Quarter-Final 4: Winners Group D v Runners-up Group C – kick-off 8pm, New York Stadium
Semi-finals
tuesday july 26
Semi-Final 1: Quarter-Final Winners 1 v Quarter-Final Winners 3 – Kick-off 8pm, Bramall Lane
Wednesday July 27
Semi-Final 2: Winner Quarter-Final 2 v Winner Quarter-Final 4 – Kick-off 8pm, Stadium MK
Final
Sunday July 31
Winners Semi-Final 1 v Winners Semi-Final 2 – Kick-off 5pm, Wembley